Students from the University of Stellenbosch win prizes at the national microscopy conference, Dec 2016

July 05, 2017 |
BY

MSSA
At the recent microscopy conference, hosted by the Microscopy Society of Southern Africa (MSSA) in Port Elisabeth in Dec 2016, three SU students from the Department of Physiological Sciences won prizes for their research performed. Innovative microscopy techniques were implemented to unravel research questions around Alzheimer's disease and neuronal cell death as well as brain cancer. Dumisile Lumkwana received the 'Wirsam Light Microscopy Prize - Best presentation' for presenting data of her PhD work, Jurgen Kriel was awarded the Wirsam Scientific Prize - Best Student Paper Life Sciences' for his MSc research and Yigael Powrie received the 'SA Scientific Award – Best Presentation Confocal Microscopy' for his MSc work.

'This is a wonderful achievement and testimony for the excellent and hard work, a happy moment for me', said their supervisor Dr Ben Loos, who heads up the Neuro-Research Group at the department of Physiological Sciences, Stellenbosch University.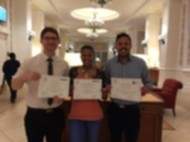 Leave a comment
Be the first person to comment.
Contact Us
Tel & Address Info
Tel: 012 841 3643
Fax: 012 841 2227

Address:
Council for Scientific and Industrial Research,
1-Meiring Naude Road, Brummeria
Pretoria, 0001, South Africa

---
Operation Hours:
Monday - Friday
08h00 - 16h30